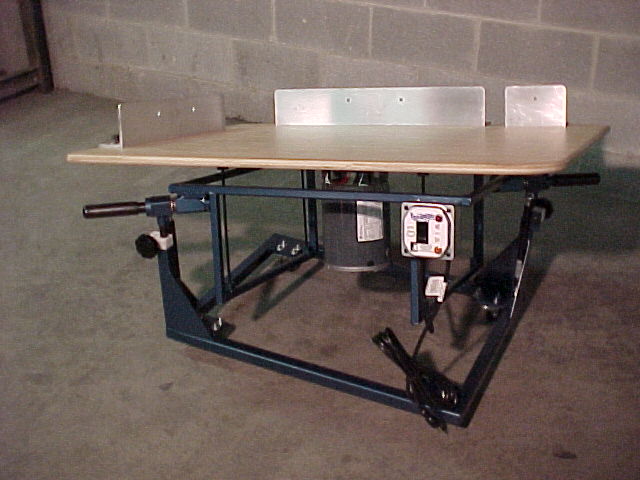 This custom-built jogger, engineered by Johnston Services' owner, Ben Johnston, is a redesigned version of existing, but shortsighted designs. He felt the industry needed a superior, more versatile jogger that would handle more than just the large sheets. More photos are at bottom of page.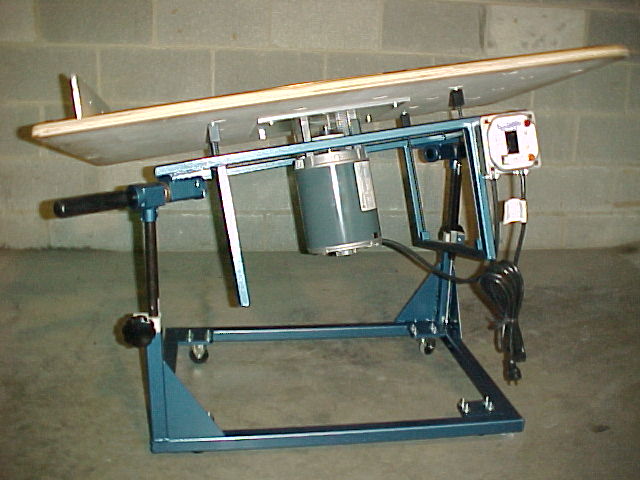 Now, there is a better way to collect your laminator's output, the Vari-Jogger. This vibrating catch table will pay for itself in a few months by reducing the amount of mindless effort required by an employee, who has more productive things to do. The Vari-Jogger gets its name from the many variations it can be configured to handle and will work with any known sheet separator or cutter. With the Vari-Jogger behind your cutter, your product output stacks up neatly. It works best with a cutter equipped with an exit conveyor because these bring the cut sheets out in the same position every time, but can be helpful for cutters without exit conveyors as well. (After market exit conveyors available upon request for many cutters.)
Working example: If you have 8-1/2" x 11" sheets that have to be 3 hole drilled after laminating, an exit conveyor and the Vari-Jogger will dramatically reduce the time required for your operators maintaining registration alignment of the output stack.
It is able to receive sheets ranging in size from 2" x 3" up to 28" x 40" by simply adjusting the L-angle end stops so that the sheets are caught at the top of the jogger, rather than having to make it all the way to the bottom - especially important for smaller sheets like 8-1/2" x 11."
The tilt angle can be changed easily, and will hold that angle.
The height can be adjusted to accommodate different sheet separators or situations. The weight of the table is pushed up by gas springs so it is easy for one operator to make the adjustment. To raise, simply loosen both clamp knobs and the springs push it up. To lower, loosen the clamp knobs, press down on the table top and retighten clamp knobs at the desired height. The top corner of the Vari-Jogger (some what dependent on the angle of tilt) ranges from about 24" from the floor to as high as 30." It can be built higher if needed.
The motor has two speeds. The slower speed is useful when running polypropylene laminations that are more prone to the buffing scratches imparted to the bottom sheets.
The Vari-Jogger has indicator lights to make its operation apparent from a distance (red for fast, amber for slow). Another reason for the indicator lights is that it is so quiet when empty (especially with typical background noise), that it could easily be left on and forgotten, running needlessly, when not in use.
There are two fixed caster wheels and two swivel casters for easy steering to another location, yet it's stable enough to stay where you put it (without vibrating out of position).
The benefits of this great machine do not stop here: It also provides a great foot massage during breaks!
The Vari-Jogger is covered for One (1) year against manufacturing defects.
NEW!! The frames are now Powder Coated! The standard color configuration is Black Satin finish on the frame, with Matte White Formica top.

---
Production Notice: Due to recent move, my production facility is very cramped. It will just take a little longer to produce the Vari-Jogger. There are 90 machines placed with more than 40 different customers. If you would like to obtain references, several have agreed to talk to potential buyers. They can assure you the wait will be worth it. Call for details.

Effective July 01, 2011 the price of the Vari-Jogger will have to be determined per sale, with a quantity discount still available for multiple machines ordered. Material costs are out of control. Please contact me for current pricing.

Payment terms are Pre-pay with delivery in 6 - 8 weeks. Again, other customers can testify that this works. Other arrangements can be made, but the total cost to the customer is higher if not fully prepaid.

Shipping must be arranged and paid by customer via freight truck line of your choice. The Vari-Jogger is carefully contained in an enclosed in a triple thickness corrugated box with wood framework crate, class 85, shipping weight is under 250 lbs.
Crate dimensions are: 36" W x 48" L x 32" H.
ORDERING INSTRUCTIONS:
Please call, ask questions.
1. Email your Purchase Order with your company information.
Please include your name, company address, phone and email address.
2. An invoice with your PO # on it will be returned to you via email.
3. Send check payable to Johnston Services to the address shown on the main web page and the invoice.
4. Shipping date is based on 6 - 8 weeks from date your check is received.
---
Curious about our competition? We're proud of what we build, and feel it is the best machine, by far, for the price. This is our only direct competitor. They would rather sell a whole system than just a jogger. These are made for large sheets ONLY. They do not work well with various applications.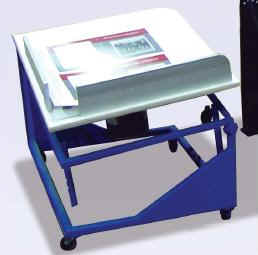 http://www.dkgroup.com/igsbase/igstemplate.cfm/SRC=DB/SRCN=/GnavID=7/SnavID=3
You can see their jogger at the end of their System 3210. Unfortunately, you can't get much detailed information about their jogger. Even the brochure they used to send out reveals little about its features, because, frankly, it has few to offer compared to the Vari-Jogger.

---
Below, you can find many photos of all the Vari-Joggers as they have evolved and improved. By clicking on any of these thumbnails, you can view an enlarged view and learn a little more about the Vari-Jogger.
The red joggers are the year model 1999, and are the only photos I have of the jogger in action behind the Autofeeds cutter.
The green joggers represent the year model 2000 machines with the gas lift springs and "Hammered Steel" finish paint. We have since gone to powder coating starting in 2005.
The blue joggers are photos of the 2001 models with the improved lift extension clamps that allow for smooth lift operation. This is the model Vari-Jogger that made its international debut in September 2001 in the Autofeeds booth during the Print 01 show.
The "white" joggers are photos of the model being used in the Autofeeds trade show booth and if you ask Autofeeds for a jogger with their laminating system, this is what you get. This is the same model currently in production, with some very minor changes. The best modification is that they are all powder coated for a very good looking and tough finish.